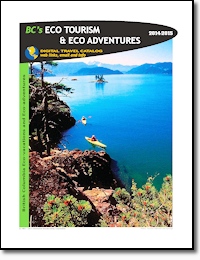 British Columbia Eco-Tourism & Eco-Adventures Guide

FREE Travel Guide!
Download a free catalog that focuses on eco-tourism and eco-adventures in British Columbia, Canada. Eco-tourism one of the fastest growing travel sectors, and BC is one of the most beautiful places in the world!
An nature-based eco-tourism vacation in British Columbia means unspoiled, pristine wilderness, majestic national and provincial parks, breathtaking vistas, towering mountains, rugged coastline and countless rivers and valleys. In fact, BC is the perfect location for your next eco-adventure.
BC Eco-Tourism & Eco-Adventures Catalog showcases the unique nature-based resorts, vacations and adventures of British Columbia, Canada. Sailing, hiking, expeditions, nature tours, wilderness education, wildlife viewing and world class resorts and destinations.



Right click "save target as" to save to your hard drive.
Left click to open on-line (high speed connections)
Have Your Business Listed:
Operators of BC eco-adventures, eco-resorts and eco-tours contact us for information on having your business listed: :